Skip to Main Content
It looks like you're using Internet Explorer 11 or older. This website works best with modern browsers such as the latest versions of Chrome, Firefox, Safari, and Edge. If you continue with this browser, you may see unexpected results.
Michael Lines
Michael Lines
Authoritative starting places for International Relations
Immediate history and context
The Heartland Theory of world politics
Who rules East Europe commands the Heartland;
who rules the Heartland commands the World-Island;
who rules the World-Island commands the world.
— Mackinder, Democratic Ideals and Reality, 1919, p. 150
The quote above expresses a pervasive view of world politics in the 20th and 21st centuries: that the land mass of Eurasia (the "world-island") is the greatest source of resources on earth, and that control of the resources there is the greatest source of political power.
This view was especially strong internationally during the cold war, and was espoused by two of the most influential figures in United States foreign policy: Henry Kissinger and Zbigniew Brzezinski. The term "geopolitics" is often strongly associated with this theory.
In this view, control of access to the European plain from western Europe is key to Russian security, and therefore a western-allied Ukraine is incompatible with Russian hegemony.
Critiques of the Heartland Theory, of superficial applications of the theory, and alternative theories have been developed.
The invasion of Crimea, The Orange Revolution, and the invasion of Georgia are all relevant recent events.
The relevance of the Heartland Theory and other theories may be questioned in light of the rapid thawing of Russian territory and the unprecedented challenges this brings to the world, as described in this CSIS Report: Climate Change will Reshape Russia.
Belt and Road Initiative
The place of China in the Ukraine conflict is not well defined. To explore this topic, the Belt and Road Intiative should be considered.
"The Belt and Road Initiative (BRI, or B&R[1]), formerly known as One Belt One Road (Chinese: 一带一路) or OBOR for short, is a global infrastructure development strategy adopted by the Chinese government in 2013 to invest in nearly 70 countries and international organizations.[2][3] It is considered a centerpiece of the Chinese leader Xi Jinping's foreign policy.[4] The BRI forms a central component of Xi's "Major Country Diplomacy" (Chinese: 大国外交) strategy, which calls for China to assume a greater leadership role for global affairs in accordance with its rising power and status.[5]" (Wikipedia)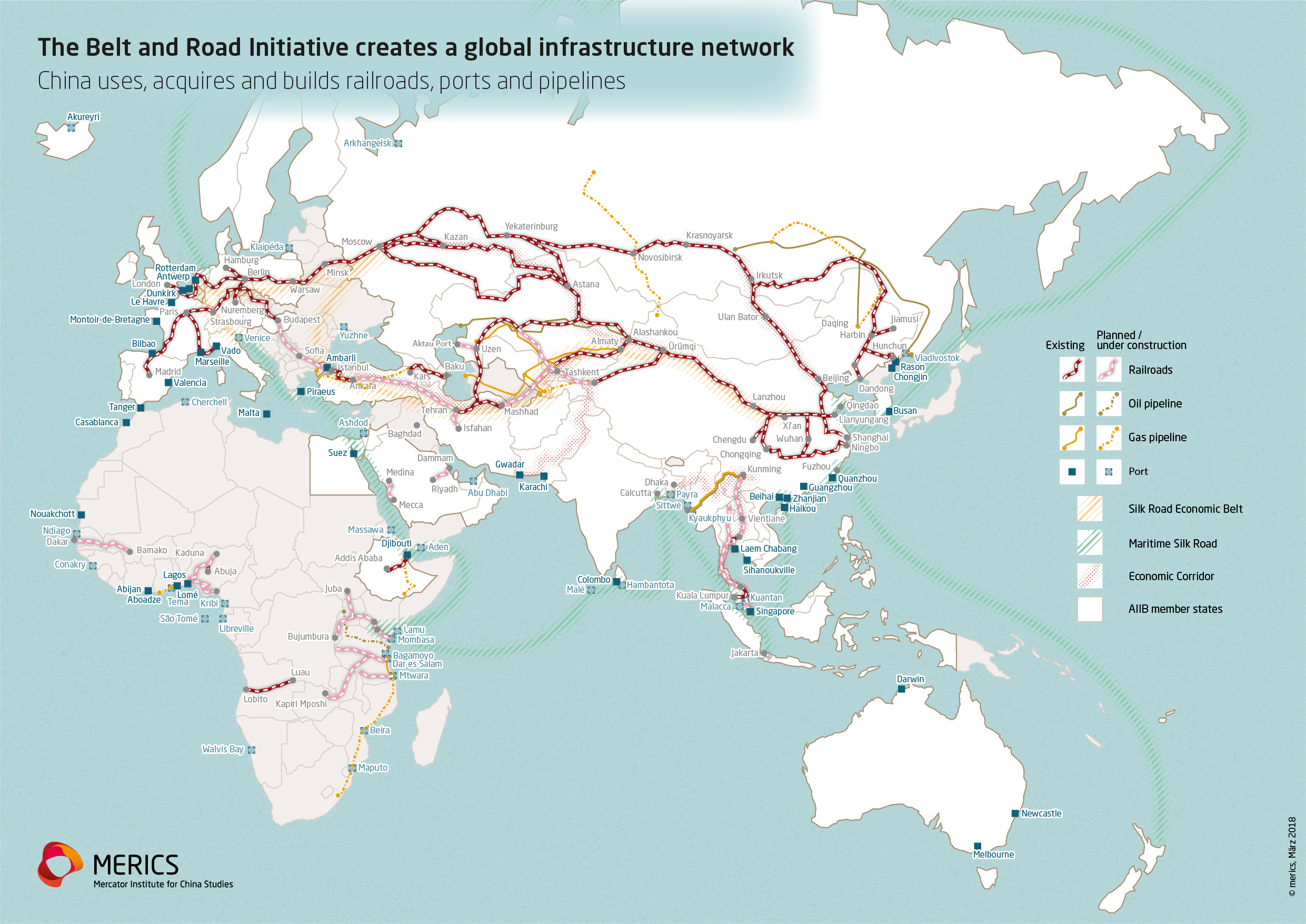 This work by
The University of Victoria Libraries
is licensed under a
Creative Commons Attribution 4.0 International License
unless otherwise indicated when material has been used from other sources.